As of April 26, 2022, North America has continued to have more cases of HPAI spreading into more than 29 states and Canadian provinces as stated by the USDA. Over 33 million birds have been affected, including more than 150 commercial flocks resulting in millions of chickens being culled as a bird flu outbreak ravages the industry. This year is shaping up to meet or even surpass the last large outbreak that occurred back in 2015.
Biosecurity refers to everything people do to protect their livestock, property, and employees from viruses and bacteria to reduce and prevent disease.
According to the Animal and Plant Health Inspection Service branch of the USDA, there are two main categories of biosecurity measures: structural and operational.
Structural biosecurity is the measures that are put in place within business that are the physical objects and maintenance used in coops, poultry houses, farms, and other facilities.
Operational biosecurity is the different procedures and policies put in place to be followed by employees and other people on site at the facility.
There are three main locations to consider when discussing how to improve structural biosecurity:
Truck Wash Facility

Full Facility

Multiple Facilities Nearby
Each section below represents a single layer of structural biosecurity infrastructure, starting at ground level with a truck wash all the way to the 'zoomed out' birds eye view of multiple facilities located near the original truck wash facility.
Truck Wash Facility Biosecurity Layout
A Biosecurity Truck Wash Facility needs to be extremely well thought out and designed from inception to effectively control cross-contamination of viruses, diseases, and bacteria. This starts with institutional controls such as fencing, barricades, walls, showers, clean clothes on-site, as well as proper disinfection equipment. Strict rules must be followed to ensure that the facility is secure at all times and all personnel do not get complacent.
One of the best ways to illustrate the proper flow is by color-coding the interior floors. Red is defined as dirty and must be assumed to be contaminated. The Gray Area is defined as "Farm Clean". This has only personnel that have thoroughly washed-in and are considered to be Clean. It will have trucks that enter dirty but will be cleaned and sanitized prior to leaving. The Green Area is defined as Clean.
The only way to get to a Green area is through either a shower or through a truck wash. A person should never travel from Red or Gray to Green without passing through a shower. A vehicle should never travel from Red or Gray to Green without passing through the truck wash.
See an example biosecurity layout for the truck wash facility below: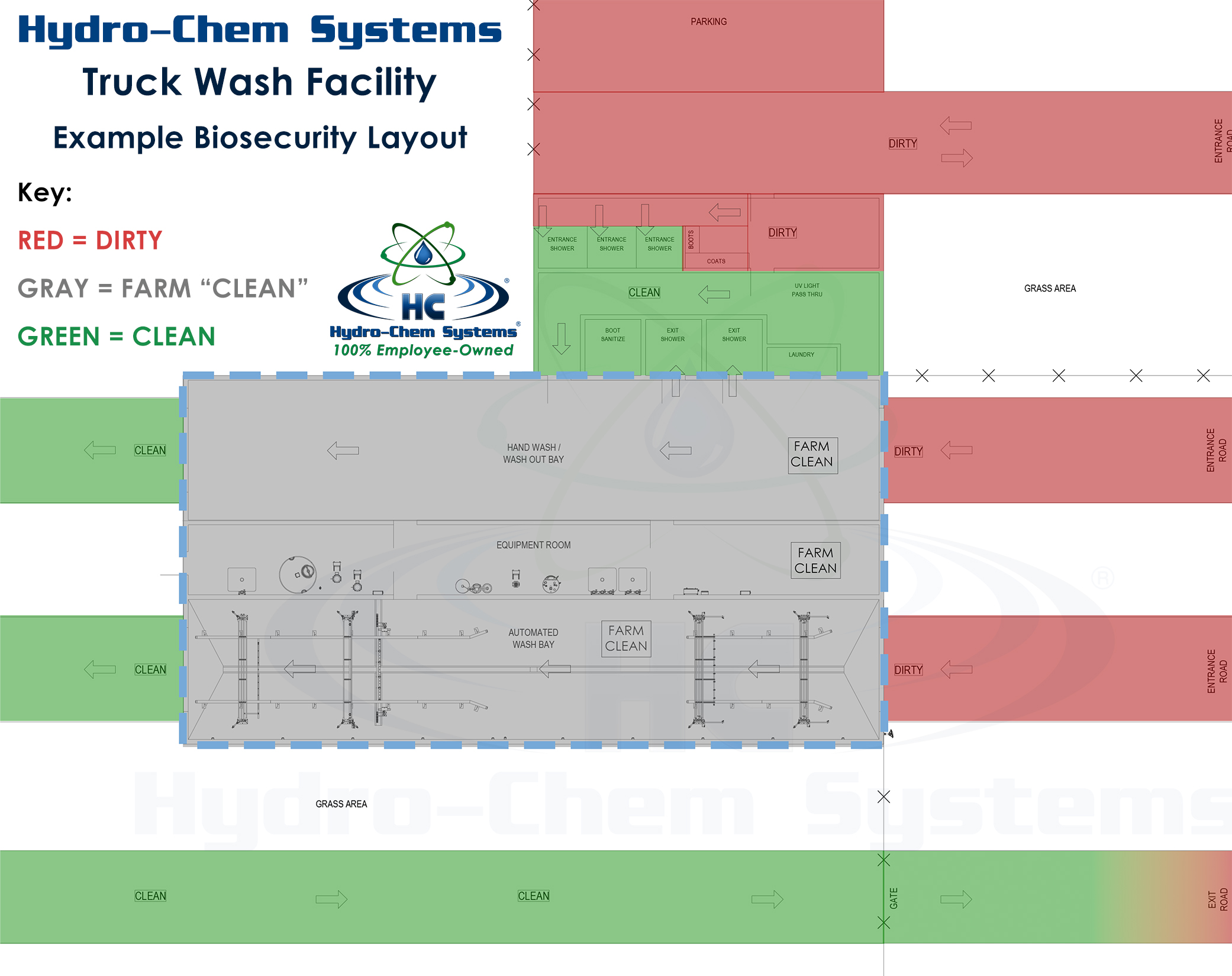 ---
Full Facility Biosecurity Layout
The first line of defense at your feed mill (or other similar facility) is by limiting the flow of traffic in and out of the mill. This can be accomplished by utilizing one-way roads and proper fencing.
The best way to mitigate the chances of an outside vehicle bringing in viruses from off-site is to have full and complete control of access to the location. You can't control what is going on outside of your property, however, for your property you should do everything in your power to prevent the spread of pathogens. All vehicles and people allowed through the gates should enter through a truck wash or shower.
See an example biosecurity layout for the full facility below: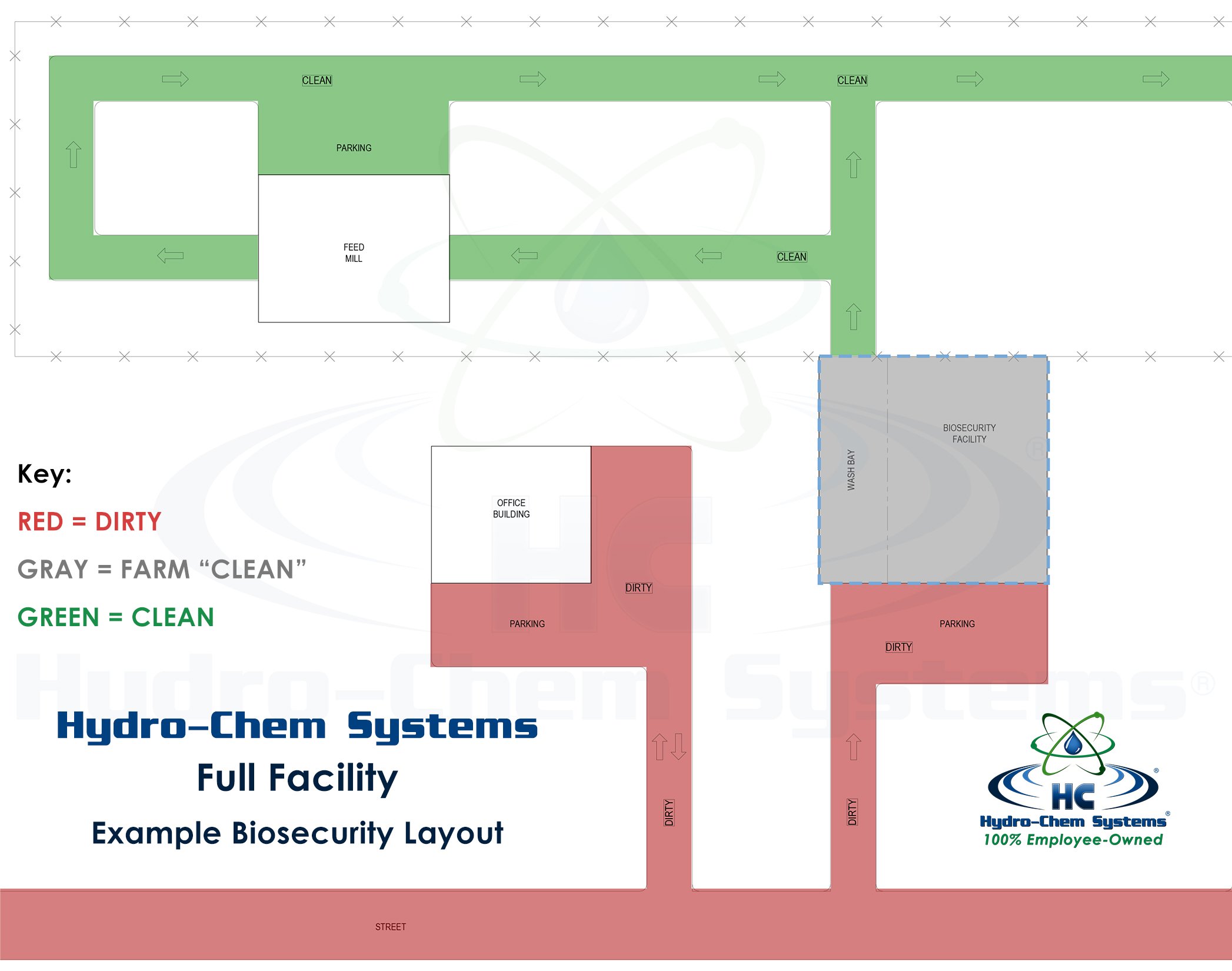 ---
Multiple Facility Biosecurity Layout
There are many places where pathogens can spread. However, we only have control over some. You want to ensure facilities that include locations where vehicles (such as feed trucks) that travel farm-to-farm are secured with proper one-way entrances and exits to help reduce the chance of contamination. A single feed truck can go to the mill as many as five times a day before going to other locations so it is imperative that any area that could have cross contamination is secure and monitored. A second area of control is nearby farms. These farms should have an area at the entrance to sanitize every vehicle that goes on-site as well as separate entrances and exits to follow proper biosecurity practices.
See an example biosecurity layout for multiple facilities below: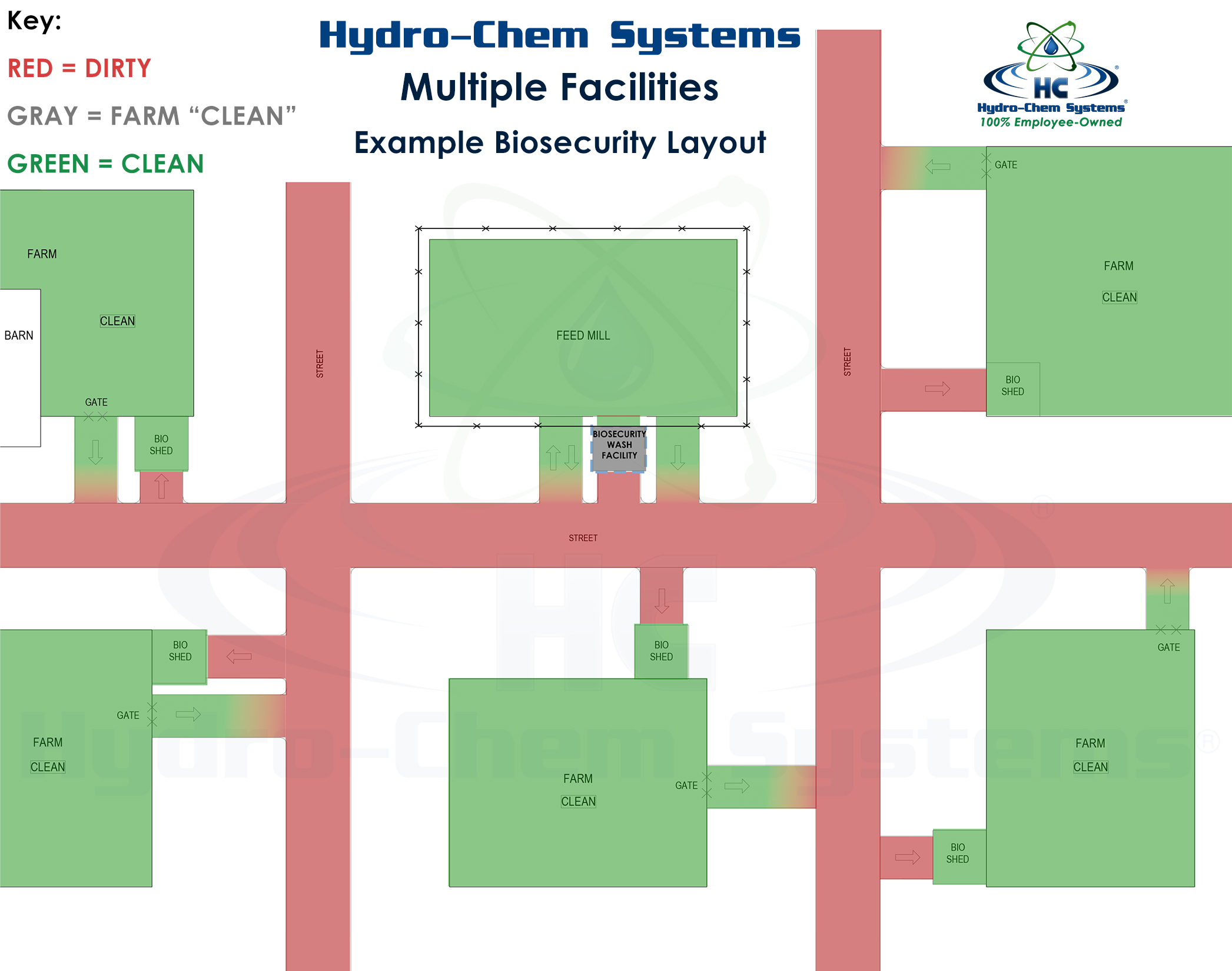 Why Does Biosecurity Facility Layout Matter?
"The virus apparently is slowing because of improved biosecurity and culling procedures...they seem to be working to limit spread... said James Roth, director for the center for Food Security and Public Health in the College of Veterinary Medicine at Iowa State University."
By working with a business that has experience with building biosecurity fleet washes, you're able to have a partnership to design and implement an effective and efficient washing process to work toward reducing not only the risk of transmission, but also to have a cleaner fleet.
If a facility is not designed with the end goal of biosecurity and addresses all possible factors, it could end up forcing a redesign and change in layout after the build, not only increasing construction costs but also increasing the risk of spreading pathogens to both your facility and other facilities nearby.
Why a Biosecurity Wash System is Essential
Read more in an earlier blog about how fleet washing and biosecurity go hand-in-hand here: The Return of Bird Flu: Increasing Biosecurity through Fleet Washing.
Why Work with Hydro-Chem Systems to Design and Implement an Effective Biosecurity Wash System
Hydro-Chem Systems has been a leader in the automated biosecurity truck wash industry for years. We understand how important it is that an entire vehicle is cleaned and sanitized, including the undercarriage, wheels, chassis, tractor, and trailer.
We work with multiple big name producers in the industry and developed systems that are custom-designed for each facility to help reduce disease transmission, including simple options that apply only a sanitizer. Typically, our biosecurity wash systems will wash the vehicle to ensure a clean surface to which an EPA-approved sanitizer is applied to the entire vehicle, including the undercarriage and wheels. And all of our full washes are designed to clean every vehicle that may drive from farm to farm, including feed trucks, poultry haulers, hog haulers, fuel trucks, dump trucks, and personal vehicles.
About Hydro-Chem Systems
Hydro-Chem Systems is a leading supplier of fleet and industrial truck cleaning solutions. For more than 50 years, we've dedicated ourselves to helping private fleet owners, municipalities, schools, farms, manufacturers, and mobile washers across the USA & Canada achieve the lowest cost per wash. To find more information on how you can clean more vehicles in less time, call 616-531-6420 or email us at info@hcsclean.com